Richard DePalma
March 25 1933 - December 15 2016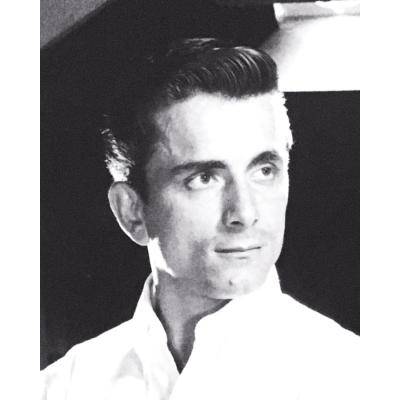 Visitation :
John Quint Treboni Funeral Home
Sunday December 18th 2016 2-5 p.m.
1177 W. 5th Avenue
Columbus Ohio 43212
Map
---
---
Obituary
Richard M. "Dick" DePalma, age 83, passed away on Thursday, December 15, 2016, at Riverside Methodist Hospital. Dick graduated from Grandview Heights High School and attended The Ohio State University, later retiring from Lane Aviation. He served in the Army during the Korean War, was a member of the Guild Athletic Club, and was a well known local TV personality, known as "Paisan" with Gene Fullen and Sally Flowers. He is survived by his wife, Jan; brother, Donald (Barbara) DePalma; nephew, Rich (Shirley) DePalma; nieces, Denise DePalma, Rebecca (Danny) Bevis and Emily (Zach) Butte; Godchildren, Brett and Angie Hathaway, David and Kristin Setzer, and Ben and Courtney Hathaway. His family will receive friends on Sunday, December 18, 2016, from 2-5 p.m., at the JOHN QUINT TREBONI FUNERAL HOME, 1177 West Fifth Avenue (with a GAC service at 4:30 p.m.), where his funeral will be held at 11:00 a.m., on Monday, December 19, 2016. Entombment with Military Honors to follow at Kingwood Memorial Park Mausoleum, Lewis Center. Condolences may be sent via www.johnquint.com.
---
Condolences for Richard DePalma
---
From : Chuck Underwood
To : Jan
Date: December 16th 2016
What a gift he possessed... that every interaction we all had with him was filled with friendship, sincerity, and laughter. A reporter who spent time overseas returned to America and wrote that she had missed America's laughter. No one else in the world, she said, laughs quite like Americans. And no one else laughed quite as constantly and heartily as those who were blessed to be in the presence of Dick DePalma.
---
From : Phyllis Petruzzi
To : JAN
Date: December 17th 2016
I am so sorry Jan my prayers and thoughts for you,
Dick was always a pleasure to be around he had a way of making people smile and laugh.
My heart goes out to you loosing a husband is very painful. I will be praying for you. If you need someone to talk to I left my e-mail address to please contact me I fully understand your heartache. Phyllis Petruzzi
---
From : Michael, RN and the staff at OSU Cardiology
To : The DePalma Family
Date: December 17th 2016
Our deepest sympathies to you and your family. Mr. DePalma was always a joy to see in clinic. I remember he would always bring us doughnuts every time he came into the clinic. He will be missed. Our thoughts and prayers are with you and your family during this difficult time.
---
From : John and Patti McIntyre
To : Jan DePalma
Date: December 17th 2016
Jan,
We are so sorry about the passing of your beloved husband, Dick. We won't be able to attend his showing and funeral due to me being down with an upper respiratory infection. Just know that our love and prayers are with you and your family.
Patti
---
From : Dave Logan
To : Jan
Date: December 18th 2016
Mary & I were shocked to hear of Dicks passing. We had so many great times doing sock hops. He was
always a big hit with the kids. It seems ever time
we turn around we have lost another good friend.
Know the you and Dick are in our thoughts and Prayers.
---
From : Carol Dailey
To : DePalma Family
Date: December 19th 2016
I was sorry to learn of your recent loss. I best remember Richard as "Paisan" from the Gene Fullen and Sally Flowers era when I was a young teen.
My thoughts and prayers are with you . .
---
From : Bart Mahoney
To : Jan DePalma
Date: December 21st 2016
It is with a very heavy heart that Insend this message. Dick was a great friend and fellow Rotarian in the Whitehall Bexley Rotary Club. He always added fun to the Club meetings and lived the Rotary motto, Service Above Self. When he left the Club there was a tremendous void, but he was never forgotten. Please send me a memory card:
Bart Mahoney
2105-B Richardson Rd
Camden, SC 29020
---
From : Mike Keller
To : DePalma Family
Date: December 4th 2017
Dick was always a terrific personality in the years I worked for a company based at Lane Aviation. I can only describe conversations with him as truly knowing what it means when someone has a "sparkle in his eye." I am saddened to hear of his passing, and hope his family found the warmest of memories to celebrate his life with. Rest in Piece Dick.
---