Mabel (Fiori) Clapp
September 19 1918 - January 24 2022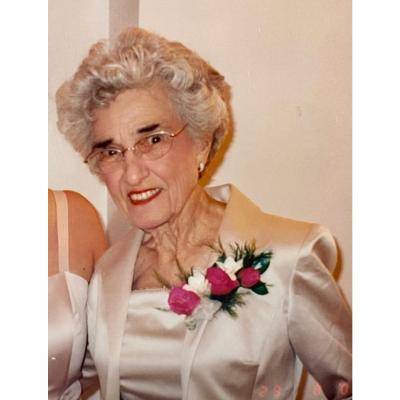 PLEASE NOTE UPDATED VISITATION TIME CHANGES
Visitation :
John Quint Treboni Funeral Home
Friday February 4th 2022 5-7 PM
1177 W. 5th Avenue
Columbus Ohio 43212
Map
Services:
PRAYER SERVICE FOLLOWED BY A C
Friday February 4th 2022 at 4:00 pm
John Quint Treboni Funeral Home
1177 W. 5th Avenue
Columbus , Ohio 43212
Map
---
---
Obituary
Mabel (Fiori) Clapp (1918-2022)
Mabel (Fiori) Clapp, died peacefully on January 24, 2022, at home surrounded by family. Preceded in death by her husband Ferdinand, and daughter Melinda Wolf. Survived by her son, Eric Clapp; grandchildren, Michelle Clapp Hohler (Keith), Kevin Clapp, Bethany Wolf Sullivan (Doug), Anneliese Wolf Johnson (Keith), Susanna Wolf Huffman (Dave); and great-grandchildren, Corrina (Tyler) and Brock Hohler, Danica and A.J. Clapp, Emma and Jack Sullivan, Mallory and Weston Johnson, Veronica Huffman. Born to Italian immigrants Peter and Virginia Fiori at the end of WWI, Mabel lived her life in central Ohio, growing up on the west side and later in Upper Arlington and Dublin. She graduated from West High School (1936), and worked at Mills Buffet, where she met her husband. She retired from Huntington National Bank in 1988. She led by example and was the centerpiece of our family, influencing three generations through her devotion, quiet strength, and selflessness. She lived an extraordinary 103 years. The family will receive friends at the JOHN QUINT TREBONI FUNERAL HOME, 1177 W FIFTH AVE ON Friday, February 4, 2022, with a 4pm Prayer Service followed by a Celebration of Life Service, continuing into the Visitation 5-7 pm. Deacon Frank Iannarino, Officiant. Burial at Sunset Cemetery on a later date. To sign the on-line condolences please visit www.JohnQuint.com
---
Condolences for Mabel (Fiori) Clapp
---
From : Jeff and Sandra Yarnell
To : Eric Clapp
Date: January 27th 2022
Eric
Sandra and I offer our sincere condolences for your loss. You were blessed to have your mother for such a long time.
---
From : Pete and Susan McClelland
To : Eric
Date: January 29th 2022
January 29th, 2022
Eric, Our deepest sympathy for you and your family. You are a truly a fine son to have taken such good care of your Mother for so may years.
---
From : Dorance Honrsby
To : The Mabel Clapp Family
Date: January 31st 2022
On behalf of the West High Alumni Association, I send our condolences to Mrs. Clapp's family. It is not often that we are aware of an alum we have lost who graduated that long ago.
---
From : Ralph Root
To : Eric
Date: February 3rd 2022
Mabel was a very valued Huntington employee. Along with being a very good friend of mine for many years. She will be very fondly remembered by many.
Ralph Root
Retired Senior VP Huntington Bank
---
From : Audrey Trotier
To : Bethany & Anneliese
Date: February 4th 2022
I want to send both of you (&Susanna) my condolences and caring thoughts! My husband and I live at Friendship Village of Dublin and are in fairly good health. I remember Mabel fondly, as she took over your care when your mom passed away. I also remember your mother. Two lovely ladies. I hope to hear from you sometime. With this weather, I just cannot come to the visitation.
Love,
Mrs. Trotier
---
From : Don and Marjean Hohler
To : Keith Hohler family
Date: February 4th 2022
One marvels at a lady who can live the extraordinary age of 103 years. Can't imagine the amount of friends she made over the years. Jean and I would have loved to have been two of them. We are thankful to know two of who I would assume were on her list of favorites, Keith and Shelly. We send our condolences to all.
---